Sabine Parish wildfires contained; water, food available for those in need
Cause of fire was spark from downed power pole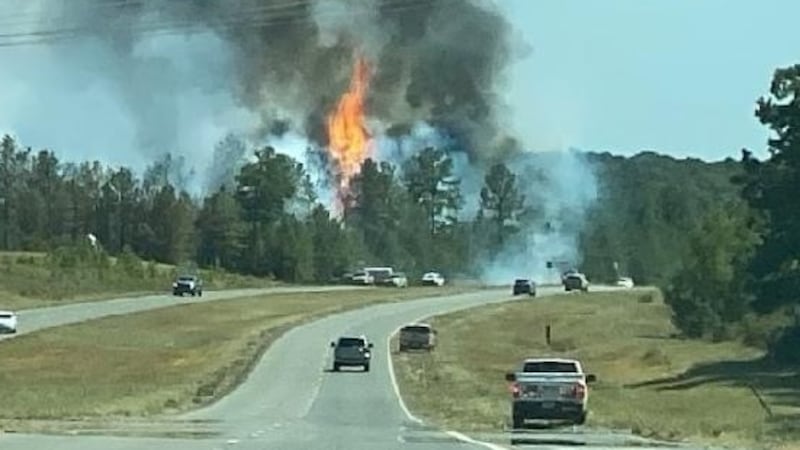 Published: Aug. 15, 2023 at 10:32 AM CDT
|
Updated: Aug. 15, 2023 at 6:57 PM CDT
SABINE PARISH, La. (KSLA) - The Sabine Parish Sheriff's Office says as of Tuesday, Aug. 15 at 9:45 a.m., the fires east of Florien are contained.
Officials say a command center has been set up at the Florien Fire Station, where water and food is available for anyone who has been displaced by the fires. Preliminary info shows the cause of the fires was a spark from a downed utility pole on Mt. Carmel Cutoff Road.
Sabine Parish authorities say about 2,100 acres burned during the fires. Ten homes and eight other buildings, as well as some vehicles, were lost in the wildfires. Officials say no injuries or deaths have been reported.
The Louisiana Department of Agriculture and Forestry has aircraft monitoring the area and assessing damage. Multiple crews from nearby areas are in the area to help if needed.
Sabine officials say there have been minor flareups, but none have threatened life or property. However, changes in wind direction, temperature, etc. could cause more flareups in the area.
The statewide burn ban remains in effect. Residents should conduct no outdoor burning of any kind. Citations will be issued to those caught violating the burn ban, the sheriff's office warns.
Copyright 2023 KSLA. All rights reserved.