FIRST ALERT FORECAST: A foggy start to our Thursday, a few showers possible tonight
Updated: Feb. 25, 2021 at 12:58 PM CST
LAKE CHARLES, La. (KPLC) - Dense fog has formed across Southwest Louisiana this morning making for poor visibility as many areas have dropped to a half a mile or less. As you make your way off to work and school this morning make sure to allow yourself extra time to get there as well as use those low beam headlights to see better as you drive.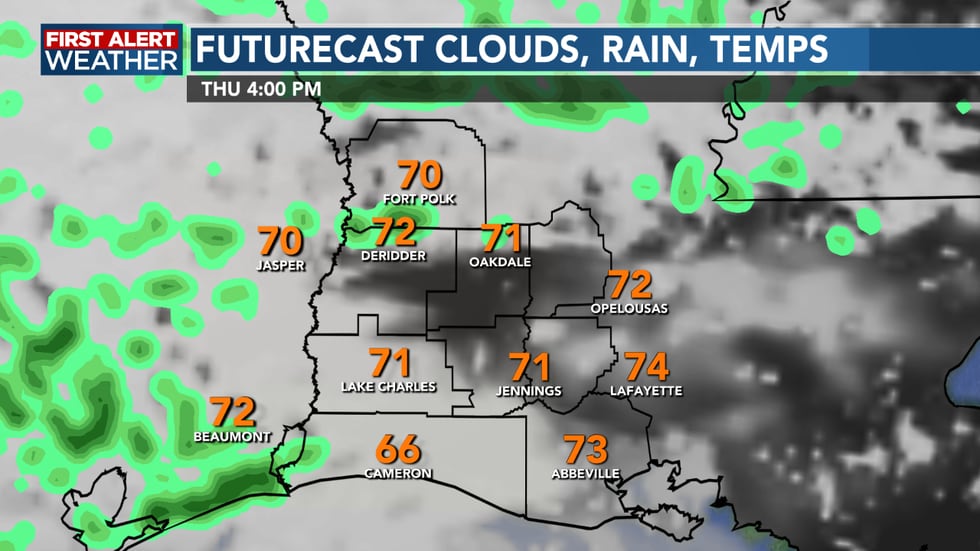 Temperatures this morning are very warm as well as we have slowly made our way back into the lower and middle 60′s and couple that with the light southerly breeze bringing moisture into the area we have seen the fog really rolling in. Sunshine will once again be limited throughout the day today and that will mean the fog will burn off slowly and we could be seeing issues with fog up until noon especially along and south of I-10. Highs this afternoon however will be on the warmer side despite not much sunshine as we climb into the lower and middle 70′s. As for rain chances we are still looking at the possibility of a few stray showers throughout the afternoon and overnight hours, but the bulk of the rain looks to remain off to our north closer to the stalled front. You can go ahead and count on almost a repeat as we head into Friday with warm and muggy conditions creating fog for the morning hours with a few showers throughout the afternoon with the front stalling in the northern portions of Louisiana.
Into the weekend we do look to see a mixture of sun and some clouds as the front slowly begins to weaken to the north and slides a little bit further to the east. At this point any outdoor plans you have look to be okay, there will be a slim chance of some rain on both Saturday as well as Sunday as our next front looks to move in for our Monday time frame. Highs will no doubt be on the warmer side of things as we head into the middle and upper 70′s for both days. The better chance of seeing some showers or storms would come as we head late in the day Sunday as the cold front pushes closer.
Starting next week it will be a more unsettled pattern as our cold front slowly makes its way through the area. This will bring our best chance of rain coming Monday and into Tuesday with temperatures slightly cooler in the middle to upper 60′s. Rain chances slowly begin to decline as Wednesday rolls around as the front pushes just far enough south, but we will have to keep a close eye on Thursday as another piece of energy moves in and that could bring us the chance for a few showers or storms. So for now continue to enjoy the warmer weather and keep the rain gear close by through the beginning of next week.
Meteorologist Jacob Durham
Copyright 2021 KPLC. All rights reserved.