FIRST ALERT FORECAST: Rainy stretch of weather ahead, colder air arrives for the weekend
Updated: Feb. 10, 2021 at 4:01 AM CST
LAKE CHARLES, La. (KPLC) - Another foggy start to the morning with visibility being reduced across all of Southwest Louisiana, so as you head off to work and school this morning you'll want to allow yourself a little extra time as well as use those low beams. Temperatures are on the milder side as we are sitting in the upper 50′s to lower 60′s with a humid feeling as moisture has increased.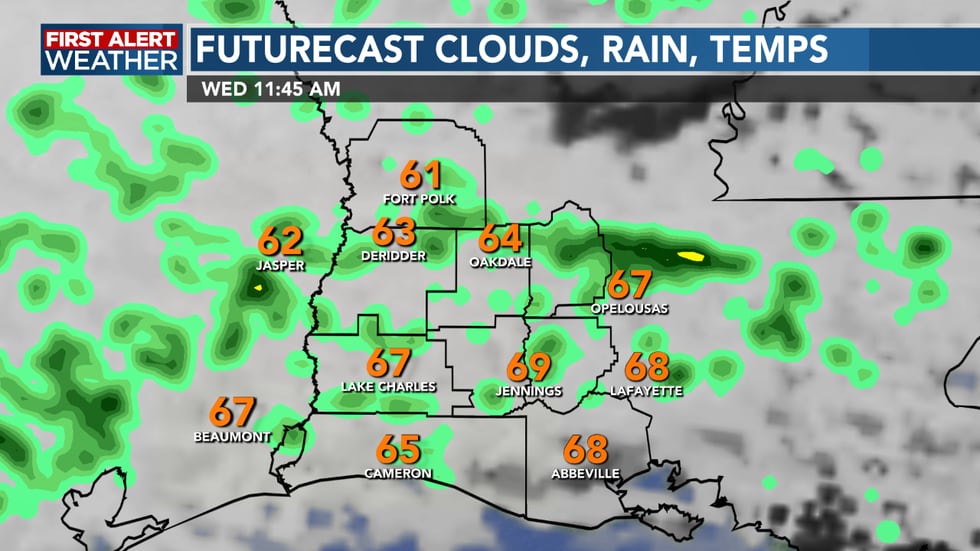 Make sure to grab the umbrella or rain jacket before heading out the door this morning as rain chances will be on the rise throughout the day and the chance of showers and storms will be around for the majority of the day. It will be a warm one as temperatures warm pretty quickly through the afternoon as we head back into the lower and middle 70′s. Enjoy the warm weather today because changes are on the way as we head into the ending part of the week as well as the weekend as much colder air filters in. We hold pretty steady this evening in the middle to upper 60′s with a slow drop up until midnight where are highs will actually occur for Thursday. Showers and storms will be around all day Thursday as we watch a strong front pushing through and this will help to keep our temperatures falling throughout the day. Temperatures start out Thursday in the middle to upper 60′s, but as we head into the afternoon we fall back into the lower and middle 50′s.
That will be the start of the cold stretch of weather we can expect as lows drop into the lower 40′s for Friday morning with highs struggling to reach the lower 50′s thanks to plenty of clouds and a few showers to start the day. Clouds hang tough heading into the weekend as well especially for Saturday as highs are in the middle to upper 40′s and even cooler for Sunday as a little bit of sunshine returns with highs in the lower to middle 40′s. Things get a little interesting into Monday as models try to bring back moisture and this will be the question we will have to piece together as we get closer, because if we do see moisture return then we have the possibility of some wintry precipitation. It's far too early and uncertain as to if the precipitation will be here as models continue to flip.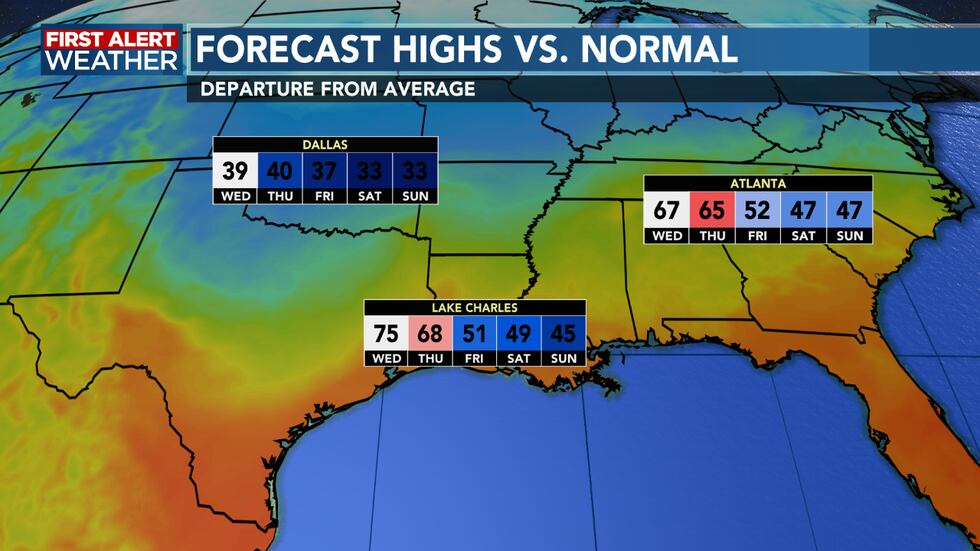 Bottom line is we will continue to monitor the situation closely over the coming days, but what is certain is that the coldest air of the season as well as maybe in the last couple of years will be here for the weekend. Have the rain gear handy for the rest of today and especially for Thursday as we look to receive 1-2 inches of rain with localized higher amounts over the next week.
Meteorologist Jacob Durham
Copyright 2021 KPLC. All rights reserved.