Louisiana State Police release new details behind arrests of four troopers
Updated: Feb. 8, 2021 at 11:33 PM CST
BATON ROUGE, La. (WAFB) - Officials with Louisiana State Police say investigators have filed charges against four Monroe area troopers for excessive force in two separate incidents.
Authorities say the charges stem from an incident in July of 2019 and another incident in May of 2020 in which the troopers' actions "rose to the level of simple battery and malfeasance in office."
Both incidents happened in the Monroe area, investigators say.
Police say Troopers Dakota DeMoss, 28, George Harper, 26, Randall Dickerson, 34, and Jacob Brown, 30, were arrested without incident Monday, Feb. 8.
All remain on administrative leave with all law enforcement property recovered pending the conclusion of the criminal and administrative investigations.
Investigators say the first incident happened in July of 2019 during a traffic stop on I -20 in Ouachita Parish. Troopers discovered suspected narcotics in the vehicle and placed the driver into custody.
After effecting the arrest, Troopers Brown and Dickerson utilized excessive and unjustifiable force on the handcuffed driver, deactivated their body-cameras, and reported untruthful statements regarding the alleged resistance by the suspect, according to police.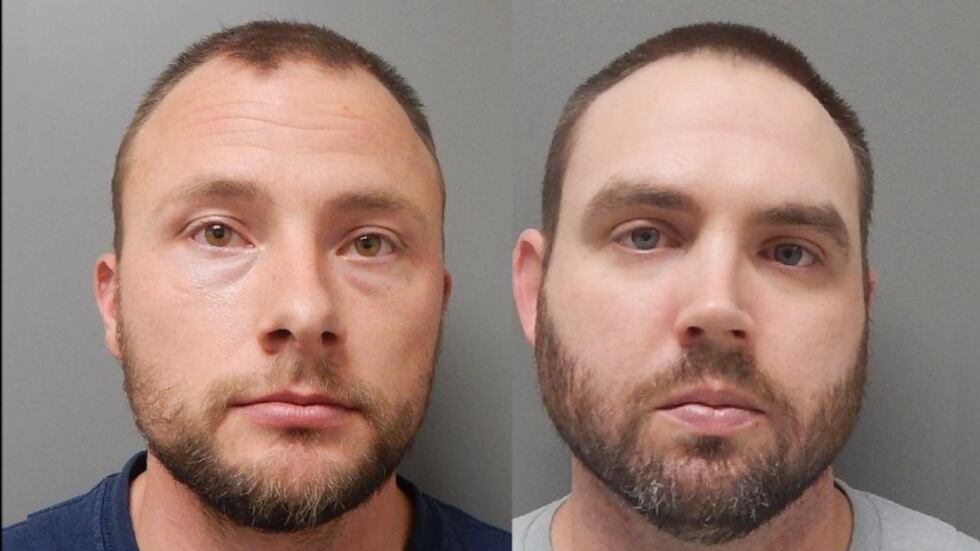 Brown and Dickerson were charged with simple battery and malfeasance in office for the July 2019 incident.
The second incident happened in May of 2020 following a vehicle pursuit in Franklin Parish, police say. Authorities say the driver exited the vehicle and immediately laid on the ground in a compliant position after troopers successfully deployed a tire deflation device.
Upon contact with the driver, Troopers DeMoss, Harper, and Brown utilized excessive and unjustifiable force during the handcuffing process and deactivated their body-cameras, according to investigators.
Police say Brown additionally falsified the use of force report and arrest report and failed to indicate and provide video evidence. The incident resulted in charges of simple battery and malfeasance in office for all three troopers with an additional charge of obstruction of justice for Brown.
"The unjustifiable use of force by our personnel is inexcusable and tarnishes the exemplary work of our dedicated men and women of the Department of Public Safety," stated Colonel Lamar Davis, Louisiana State Police Superintendent. "I commend our investigative team for their diligence and professionalism during this investigation. Our agency remains committed to upholding the public trust and providing professional, fair, and compassionate public safety services."
A source confirms to WAFB that new State Police Colonel Lamar Davis sent an internal email to members of the Department of Public Safety and Corrections Monday about the arrests.
"Today I have made the heart wrenching decision to arrest four Troop F troopers following a criminal investigation into use of force encounters," Davis wrote in the email.
Sources say the internal email also includes a message from Col. Davis saying to not "lose sight on who you represent."
The arrests come just months after WAFB obtained audio, in which a Louisiana State Trooper, who is now deceased, is heard admitting he "beat the ever-living f---" out of a Black man during a struggle that followed a May 2019 pursuit.
Rafael Goyeneche is a corruption watchdog, and is the President of the Metropolitan Crime Commission, which is a non-profit, privately funded, citizens' organization dedicated to exposing public corruption and improving the administration of justice.
He believes all signs point to a cover up in State Police.
"Trooper Brown was arrested a couple of months ago for another excessive force incident. So that's now three excessive force incidents that he's been arrested for. What hasn't been disclosed is that Trooper Brown's father was the chief of staff under the prior administration," said Goyeneche.
He believes state police need to answer questions like, when were these investigations started and by whom.
"If it wasn't initiated during the Reeves' administration why not, and I think the public is owed an explanation," said Goyeneche.
All of these actions were discovered by auditing some of the body camera tapes, which raises another question for Goyeneche and state police moving forward.
"Do they (LSP) have plans to audit some of the bodycam tapes in other troops, to determine if this type of conduct is occurring in other troops in Louisiana," he said.
Activists believe more needs to be done in order to build trust between LSP and the communities they serve.
"Happy to see that accountability is taken a little bit more seriously with state police these days. But at the same time, there is still so many unknowns, and a ton of questions that the public needs answered," said Eugene Collins, President of the Baton Rouge chapter of the NAACP.
Click here to report a typo.
Copyright 2021 WAFB. All rights reserved.