FIRST ALERT FORECAST: A warmer and windy Thursday ahead with showers by evening; colder again on Friday
Published: Feb. 3, 2021 at 4:37 PM CST
LAKE CHARLES, La. (KPLC) - Temperatures have warmed up nicely this afternoon and will be great for a walk through the early evening hours but do expect temperatures to drop quickly through the 50s closer to sunset and into the mid evening hours. Lows tonight will actually occur before midnight before warming up several degrees in the overnight as southerly winds and clouds increase ahead of our front tomorrow night.
By sunrise, temperatures are looking to warm into the upper 50s under mostly cloudy skies. This will be followed by a big increase in winds through the day. Southerly winds will become quite gusty by late morning and continue through the afternoon, at times gusting over 35 mph at times. This as clouds thicken and temperatures warm into the lower 70s by afternoon. Rain chances will stay low during the day, but a sprinkle or two can't be ruled out, especially by afternoon.
Rain chances will increase during the late evening hours as the cold front moves through Southwest Louisiana. Models show the front beginning to move into our northern parishes by mid-evening and through the rest of Southwest Louisiana before midnight. Behind the front, rain quickly ends by Friday morning as lows dip into the 40s Friday morning, only to recover into the upper 50s by afternoon as clouds will be slow to clear.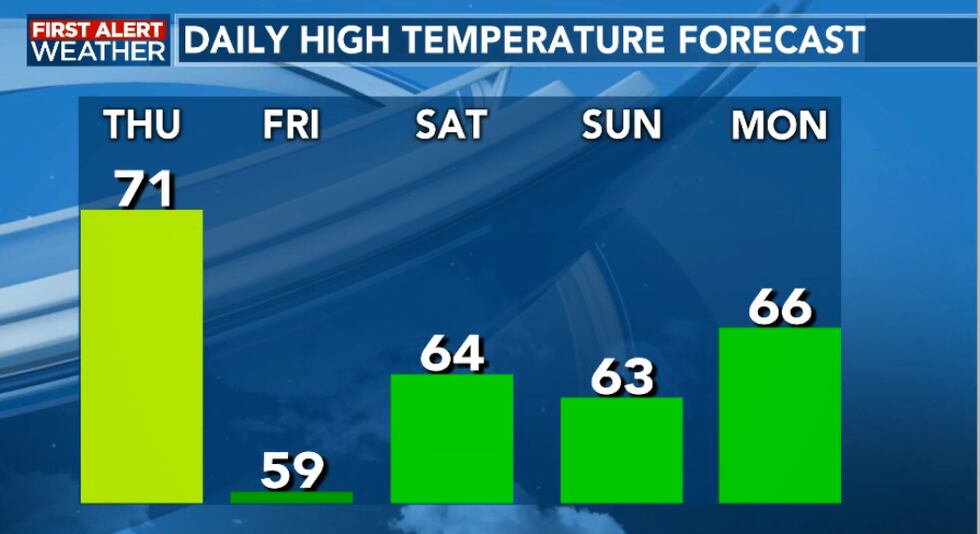 Heading into the weekend, we'll see a cool start to Saturday with lows in the upper 30s to lower 40s with another front on the way Saturday night into early Sunday. Models have really backed off on rain with this weekend front and do not send a huge surge of colder temperatures in its wake. In fact, highs remain in the 60s behind the front with lows in the 40s. We'll see milder temperatures to start next week with another front on the way by the middle part of next week.
Long range models show next week's front moving through sometime around Wednesday with a surge of colder temperatures in its wake. On top of that, an active pattern stays in place with moisture moving up the Gulf keeping showers in the forecast through the following weekend. It's an interesting setup for sure and one we'll keep an eye on, especially since there could be some much colder air in the mix along with the showers.
First Alert Meteorologist Ben Terry
Copyright 2021 KPLC. All rights reserved.