FIRST ALERT FORECAST: Clouds around for today, rain chances return for Thursday afternoon
Updated: Jan. 20, 2021 at 3:24 AM CST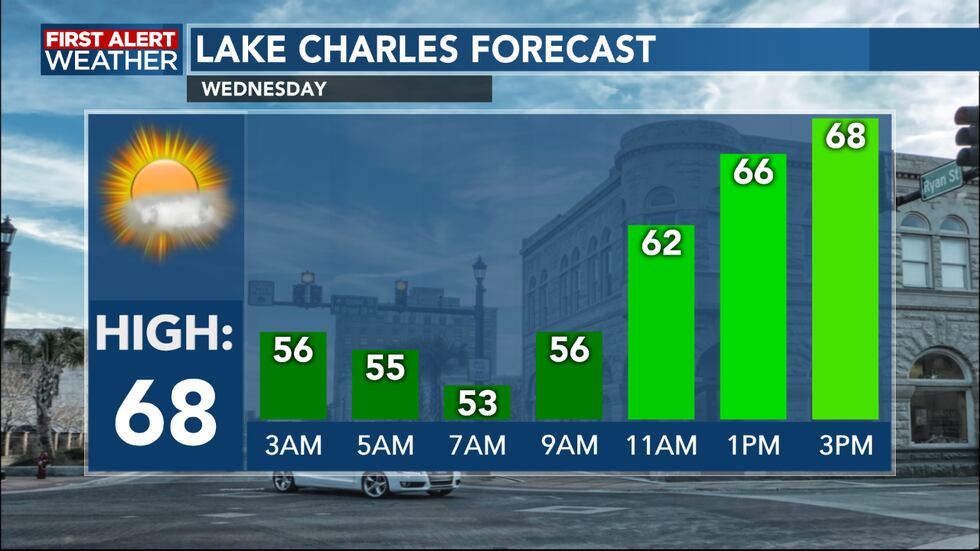 LAKE CHARLES, La. (KPLC) - Another mild start to the day as temperatures are back into the middle and upper 50′s across the area thanks to an increase in our cloud cover. A weak boundary remains off to the north this morning bringing a few showers into central and northern Louisiana, but our day looks to remain dry as it weakens as it approaches.
Heading out the door this morning you may need a light jacket as temperatures are on the cool side, but we are starting off well above average as we are in the lower to middle 50′s. We are also watching some patchy fog developing in areas that is lowering visibility slightly this morning, but that will quickly burn off this morning once the sun comes up. Sunshine will definitely be a little more limited for today as we clouds are moving in and will be staying with us over the next several days and while rain chances are low today, that changes as we head into our Thursday and Friday. Highs this afternoon will be a few degrees cooler as well as we are in the middle to upper 60′s, but still an overall pleasant day. The front that is slowly moving to the east will make its way into the area for Thursday afternoon and into the day on Friday and will bring us a good chance of rain.
Outdoor plans for the next few days won't be the best as we are going to see rain chances increasing especially for Thursday afternoon and into Friday. While it won't be raining every minute of the day it will be off an on so if you do have anything outside it would be better to have an alternative plan just to be safe. Temperatures remain on the milder side as we are in the upper 60′s and lower 70′s through Friday before we see a slight cool down heading into Saturday behind the front. Out of the two days this weekend Saturday looks to be the better of the two as we see more rain chances returning as we head into Saturday night and Sunday morning as our next front approaches.
If you like the warmer weather good news is that it looks to stick around as we head into the beginning of next week with highs in the upper 60′s once the front passes on Monday. Rain chances stay in the forecast through our Monday until the stronger front passes, and then we can finally begin to dry things out a little. Overall rain totals will be on the lower end with a quarter to half inch along the coast with upwards of an inch to inch and a half towards Vernon. Enjoy the warm weather and have a great Wednesday!
Meteorologist Jacob Durham
Copyright 2021 KPLC. All rights reserved.