FIRST ALERT FORECAST: Showers and storms return Wednesday, strong storms possible for Thursday
Updated: Dec. 29, 2020 at 3:04 PM CST
LAKE CHARLES, La. (KPLC) - We are continuing to see plenty of sunshine this afternoon as well as those warmer temperatures. Moisture is continuing to move back in as our next front moves in from the west and by the time we reach Wednesday showers and storms will be arriving.
Any plans that you may have this evening look to be just fine as we continue to see mostly clear to partly cloudy skies. Moving through the overnight though clouds will continue to to build in and that will signal the increase in rain chances as we near day break on Wednesday. Temperatures will slowly be falling as well overnight with our lows occurring just after midnight in the upper 50′s to near 60. Rain chances will be on the rise as we head into day break as showers and even a few storms will be possible as we move later into the afternoon. More widespread rain looks to move in later in the day, but the overall severe threat looks to remain low as highs top off in the lower 70′s once again. A brief break in the rain looks likely as we head into late Wednesday evening and into the first half of our overnight, before more rain arrives Thursday morning into the afternoon.
A First Alert Day has been issued for our Thursday however as we are expecting the potential for a few strong to severe storms as we head into mid-morning and into the early afternoon as the cold front swings across the region. Primary threats with the storms will be damaging winds and brief spin up tornadoes. There will be a slight chance for some large hail as well, but it looks to be more of a wind threat at the moment. Stay tuned to the KPLC First Alert Weather App as we move throughout Wednesday and Thursday for the latest updates. Much cooler air will be arriving for the New Year as we clear out just in time as the ball drops.
Cooler air will be here for Friday as highs will drop from the lower 70′s on Thursday into the middle and upper 50′s for Friday and the cooler weather sticks around as we head into the weekend as well. Sunshine will be sticking around for the weekend as we see a mixture of clouds and sun. A warm up will be arriving as we head into next week as we climb back into the middle and upper 60′s.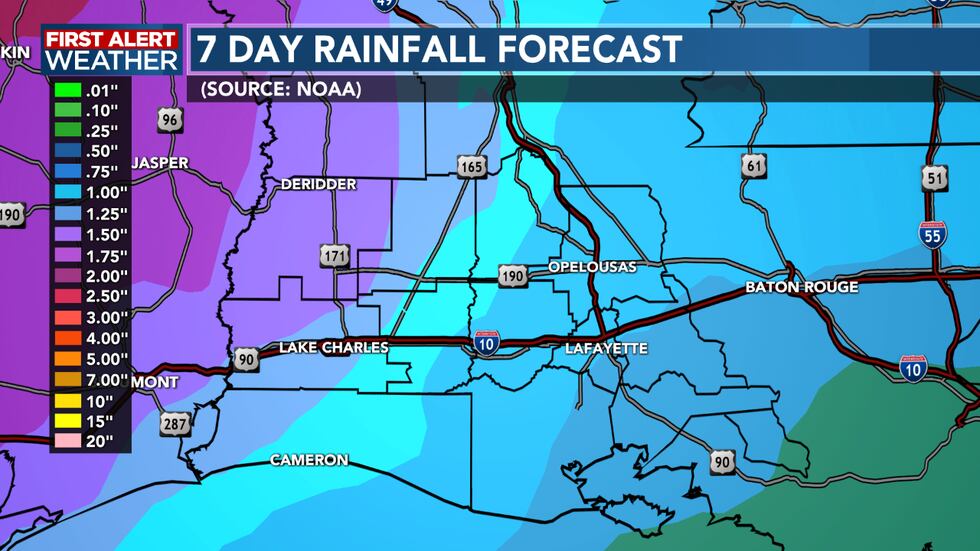 Meteorologist Jacob Durham
Copyright 2020 KPLC. All rights reserved.