FIRST ALERT FORECAST: Sunny and warm for Sunday, rain chances increase Tuesday evening
Updated: Nov. 21, 2020 at 3:53 PM CST
LAKE CHARLES, La. (KPLC) - A warm afternoon across Southwest Louisiana as we have reached the middle and upper 70′s thanks to plenty of sunshine with just a few clouds around. The warm afternoons continue as we move into Sunday as we reach the upper 70′s once again, but changes are on the way as we see a series of cold fronts moving through.
Any evening plans that you may have tonight are looking to be absolutely perfect as we see mostly clear skies and no threat of any rain across the area, but it will be warm. Temperatures will be slow to fall once again as humidity values are still on the high side, but we do look to be comfortable starting out our Sunday morning. Lows will be back into the middle and upper 50′s for many locations as Sunday starts off with mostly sunny skies. Much like our Saturday temperatures will warm quickly as we see plenty of sunshine with highs topping off in the upper 70′s to near 80 for the afternoon. A few clouds will be around as well into Sunday evening as we await the arrival of our first cold front to swing through.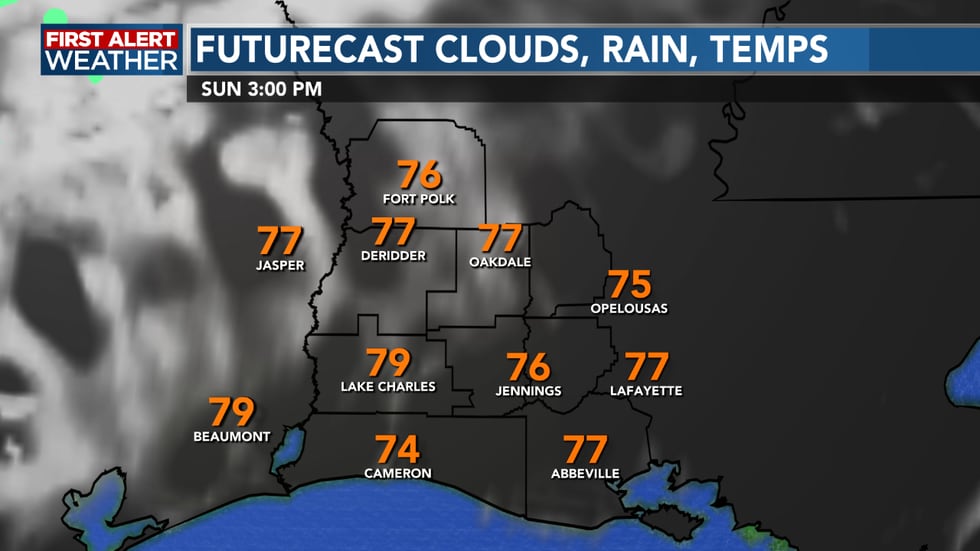 Rain chances with the first front will be much lower as it will be moisture starved, but it will bring a slight reduction in our temperatures as highs will be back into the lower 70′s. The slight cool down won't last long as we see moisture quickly returning as another front will be moving in late Tuesday and into Wednesday and this one will bring a much better chance of rain as well as a cool down. Rain chances stay low for the majority of Tuesday as we see the rain chances really beginning to increase into Tuesday night and Wednesday morning. Highs both days will be back into the middle 70′s before we drop back into the lower 70′s for Thanksgiving Day.
Just in time for Thanksgiving Day we see sunshine returning with just a few clouds around, but overall for any activities you have planned the weather looks to be no worries. Models are trying to bring rain back into the picture late Thursday night into Friday morning as another front will be moving in. This one keeps rain chances into next weekend, but the pay off could be a more significant cool down. Highs late next weekend into the following week look to be back into the middle and upper 60′s with lows back into the upper 40′s. For now enjoy the nice sunshine ahead for Sunday before we see a more unsettled pattern ahead.
Meteorologist Jacob Durham
Copyright 2020 KPLC. All rights reserved.