FIRST ALERT FORECAST: Tropical Storm Beta weakens slightly, still moving slowly off to the west
Updated: Sep. 21, 2020 at 10:28 AM CDT
LAKE CHARLES, La. (KPLC) - Tropical Storm Beta is moving to the west-northwest at 7 mph over the Northwestern Gulf of Mexico as of the 10:00 a.m. update.
Winds are down to 50 mph with gust to 65 mph as the storm slowly moves to the west, and is expected to continue to move to the west-northwest during the day Monday, before slowly turning to the north and east. The track has the storm making landfall late in the day on Monday north of Corpus Christi and south of Houston. The movement will be very slow as it won't reach the Texas coastline until late Monday, then is forecast to gradually make a more northeasterly trek into late week while gradually gaining speed.
Beta is no longer forecast to become a hurricane as it moves closer to Texas, it's forecast to remain a minimum Tropical Storm as it inches its way to the coastline. Confidence is continuing to grow that it moves inland over Texas and slows down significantly and will begin to weaken as it awaits the northeasterly turn. This is good news for Southwest Louisiana as it will be a weaker storm. Dry air and shear have also taken a toll on the storm and that has allowed for the storm to remain disorganized and the worst weather will be off to the south and west.
What this means for Southwest Louisiana is a heavy rain threat as we move into the new week, but a lot of this is going to depend on the exact track of the storm and the overall strength. Some areas that are prone to flooding could experience some as rain totals look to be higher along the I-10 corridor and points south. But as of the latest runs 2-5 inches of rain are possible across the area with localized amounts higher. As for the winds, the latest track keeps it weaker as it moves closer, but some tropical storm force winds will be possible especially along the coast line.
We can expect an increase in tide levels along the coastline throughout the next several days, which may cause some minor coastal flooding. Cameron Parish is under a Tropical Storm Warning, which means that tropical storm conditions will be possible over the next 36 hours. For now, there is no need to panic as we still have several days to watch the system. Continue to follow the KPLC 7Stormteam for the latest updates throughout the weekend.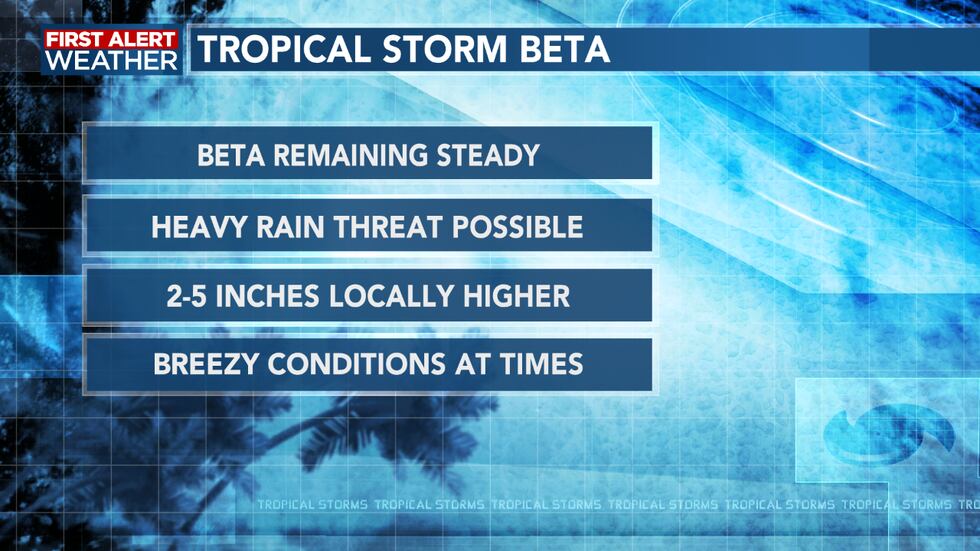 Copyright 2020 KPLC. All rights reserved.