Website allows residents to view restaurant health reports
Published: Aug. 29, 2018 at 8:19 PM CDT
LOUISIANA (KPLC) - Since last week - when Kroger on 12th Street closed temporarily due to a rodent problem - a lot of people have wondered about other places and how they fare when state inspectors show up.
You can find out about your favorite restaurant, store and much more on Eat Safe Louisiana, a Louisiana Health Department website: http://ldh.la.gov/index.cfm/subhome/19.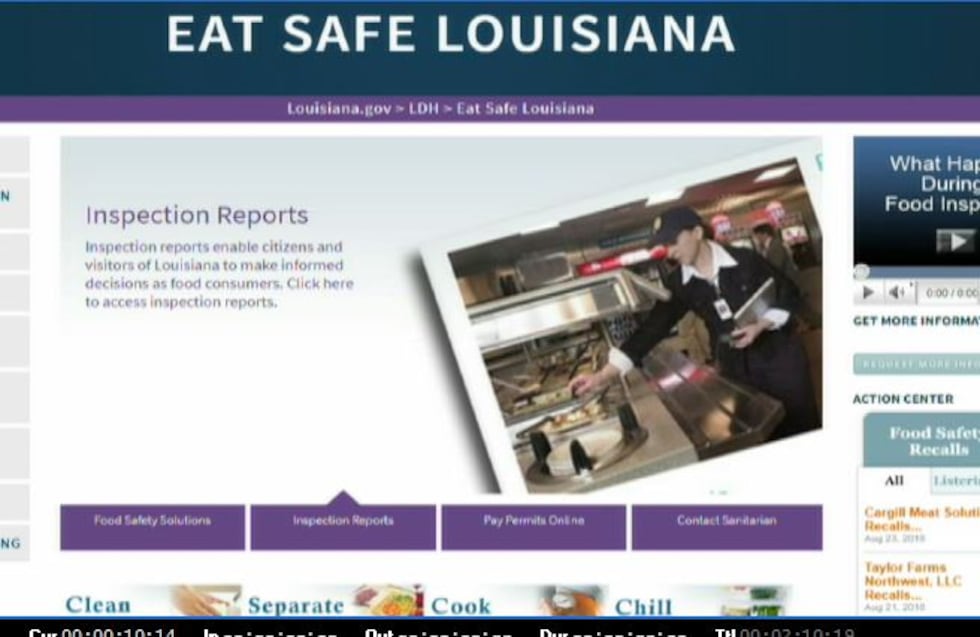 Eat Safe provides consumers with a wealth of information including inspection reports - not just on restaurants and grocery stores, but many other facilities such as schools, nursing home, hospital and day care kitchens. Even jails.
You can even watch what happens on an inspection by watching a simulated run-through.
In Calcasieu Parish, Amy Courtney has been an inspector for nearly 20 years. She is now the Calcasieu Parish Sanitarian Manager.
"I think it's important to remember that this is a picture in time," Courtney said. "We're not always going to see everything at that moment we go in. We go out based off of the risk. Our goal is to protect public health. So when we're out there, that's the main goal."
There is usually a seven-day delay before inspection reports are posted online. Violations fall into two main categories - critical and non-critical.
"Critical are typically going to get somebody sick quicker," Courtney said. "The non-critical, it's typically going to be a structural or something that could lead to a critical item. For instance, the critical items are going to be hand washing, time temperature abuse, rodent infestation, pests, any pest situation, toxic chemical storage."
Some violations can be corrected on the spot, for example, if employees are not properly washing hands.
If there's a problem that could pose an immediate, imminent threat, they can close a business if management won't voluntarily shut down.
Residents can submit complaints to the Health Department online or by making a phone call. The Calcasieu number is 337-721-4060.
"They can always do online complaint, and then also they can call our office and we do take complaints and we will go out and investigate."
Nearly 32,000 retail food operations are inspected each year.
Copyright 2018 KPLC. All rights reserved.